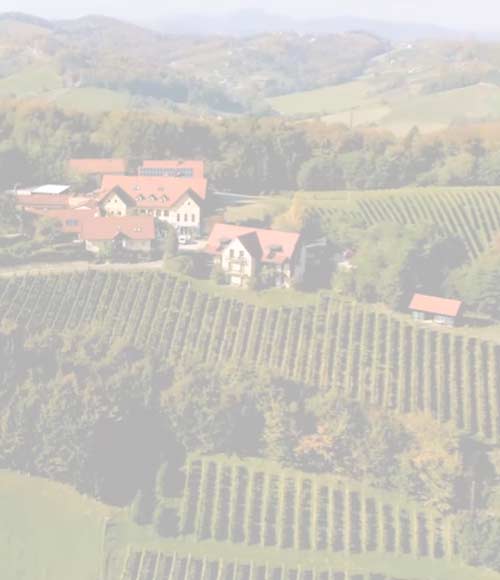 The Epicurean Hotel
Welcome to the Sattlerhof. When it comes to culinary arts and accommodations, our focus is on the culture of enjoyment. It is with great pleasure that we welcome you to our 4-star Epicurean Hotel surrounded by green meadows and vineyards. Here we offer you not only an idyllic setting and relaxation, but also personal service, heartfelt hospitality, and the joys of the Styrian lifestyle. When it comes to accommodations, you can choose between cosy rooms in the Main House or the stylish rooms and suites in the Country Manor. The opportunity to relax and unwind in the heated swimming pool and sauna hut are just a few steps away.
The winery
We stand firmly with both feet on Gamlitz soil while some 120,000 vines thrust their roots deep into the meagre subsoil in search of nutrients.
A strenuous path leads through deep crevices of crystalline quartz rock from an ancient white coral reef.
Meanwhile, cool breezes from the Alps cause the vine leaves to dance on the crest of the Kranachberg slope. Although robust, the vines are still perceptibly delicate and require meticulous care.
In the end, we are indebted to the old vines for their effort. Year after year, each vine gifts us with just enough grapes for about one bottle of wine.
Culinary Enjoyment
We serve fresh, regional specialties paired with Styrian joy of life in our 3-toque Gourmet Restaurant and our Farmhouse Bistro. Award-winning chef Hannes Sattler uses seasonal ingredients such as lamb that grazed in our vineyards or game from near-by forests. 
We source high-quality products from neighbouring organic farmers and hunters, who have been our friends for many years. We grow our vegetables and herbs in our own garden.
Unkategorisiert
Individuelle Geschenkspakete
Überraschen Sie Ihre Liebsten oder Ihr Team mit einem individuellen und liebevoll gestaltetem Geschenkspaket. Alle Produkte wurden von uns oder unseren Nachbar mit viel Liebe gemacht und wir verpacken die Geschenke weihnachtlich für Sie! Hier alle Möglichkeiten auf einen Blick: Individuelle Geschenkspakete


winery
Blooming green cover for biodiversity
Biodynamic viticulture means keeping the soil and the environment in healthy harmony. Because growing vines always goes hand in hand with the cultivation of a natural landscape, we sow native herbs and plants between the vine rows to maintain and nurture the diverse flora and fauna in a precious cultural landscape. This strengthens microorganisms, insects, the soil, and the vines.…


winery
99 Falstaff points for Ried Trinkaus
When Wilhelm Sattler Sen. took over the steep south-facing vineyard "Ried Trinkaus" in the 80s, he bottled the best grapes from the vineyard under the name "Privat". Today we consider wine provenance our most important asset. We are thus particularly pleased to call this rugged vineyard by its historic name, "Ried Trinkaus" again since 2015. You can discover more about…


News at the Estate